Sustainability-News & Awards

FUCHS holds Keynote speech on sustainability strategy at the LUBRIZOL INNOVATION SYMPOSIUM 2019 in Derby/UK.
The annual Innovation Symposium of FUCHS' global key supplier and sustainability partner LUBRIZOL took place at the Pride Park Stadium in Derby/UK. The purpose of the symposium is to showcase the innovative product development that is taking place in Europe and to create an opportunity to share best practices, ideas and make contacts with business partners for potential future collaborations.
In this year the event was focused on Sustainability and named "Realising the Value in Opportunity". About 220 LUBRIZOL delegates from across Europe participated, as well as senior leaders from LUBRIZOL headquarters in the US, including the CEO and CFO.
FUCHS is recognized by LUBRIZOL for having a strong involvement and leadership in the field of sustainability and was therefore invited as external speaker to hold the 20-minute keynote speech on its sustainability strategy and later to join the panel discussion, together with representatives from L'ORÉAL and the University of Nottingham.
LUBRIZOL wants to liaise closer with companies like FUCHS on future looking R&D with the overall goal to improve their overall sustainability profile and specifically to reduce the footprint/handprint from their products. LUBRIZOL is excited about sharing their thoughts with FUCHS in the future to gain feedback and the voice of FUCHS as their customer on ideas and plans.
For FUCHS, global key raw material suppliers and sustainability partners like LUBRIZOL will become more and more important on its own journey of becoming a carbon-neutral company along the entire process and value chain, which to a large part also includes the base oils and additives side.
FUCHS takes podium for discussion with other industrial companies on "Next Generation Chemicals" at 11th German Sustainability Conference 2018
The German Sustainability Award, which FUCHS received in 2016 as first chemical company, is a national prize honoring businesses, municipalities, and research institutes for outstanding achievements in sustainability. The schedule for the event, taking place annually in Düsseldorf, is associated with the German Sustainability Conference and includes forums for dialog about current challenges.
In early December 2018 FUCHS was represented at the conference and took the podium for a discussion on "Next Generation Chemicals - An Industry Reinvents Itself", together with three other chemical companies, including Evonik. The session was hosted by the consultancy A.T. Kearney.
Like few other industry sectors, the chemical industry is facing disruptive changes, also driven by the challenges of sustainability. The industry is preparing for these changes and in doing so overcomes borders in multiple ways: new cooperation models promise more competitiveness and more sustainability. Different players join forces: corporations with start-ups, suppliers with suppliers and even competitors amongst each other.
The discussion tackled questions, challenges and obstacles to next generation sustainable chemistry and highlighted the changes of supplier-customer relationships in the chemicals industry regarding digitalization, decentralized energy retraction and increasing decarbonization requirements.
CSR breakfast series
As part of its social responsibility as a corporate citizen, FUCHS supports social and voluntary commitment in a variety of ways at its worldwide corporate locations and especially at the Group headquarters. This also includes cooperation and involvement in series of events organised by the Chambers of Industry and Commerce (IHK) with a focus on strengthening sustainability in the Rhine-Neckar metropolitan region, like for example the IHK's CSR breakfast series, at which various companies meet several times a year to exchange ideas and present their sustainability concepts to one another. In 2015, FUCHS also hosted the IHK CSR breakfast at its Mannheim location. The last CSR breakfast took place on November 7, 2018, at the headquarters of Südzucker AG.
FUCHS SCHMIERSTOFFE receives an award for resource efficiency
On October 18, 2017, our location in Mannheim has been awarded at the "Congress of Resource Efficiency and Circular Economy" ("Ressourceneffizienz- und Kreislaufwirtschaftskongress") in Baden-Wuerttemberg for a remarkable energy and CO2 reduction measure.
By means of this project (German title: "Energetische und stoffliche Verwendung von Abfall-Kondensat – ein Beitrag zur Nachhaltigkeit") FUCHS managed to create an example of excellence for process-related sustainability and resource efficiency in Baden-Wuerttemberg.
For the new test field building the attention was focused on its future sustainable operation, particularly on the energy balance. Through the utilization of high temperature condensate, which is a waste product of the neighboring production plant, for heating the new building and keeping an adjacent storage building frost free, about 18t CO2 can be saved annually. Its final use as feed water for the cooling tower and adiabatic air cooling reduces the need for demineralized water by 1.000 m³ per year.
The initiative "100 Companies for Resource Efficiency" ("100 Betriebe für Ressourceneffizienz") demonstrates how resource efficiency can be implemented in a concrete way and highlights the related value. Our company representatives proudly received the award in October 2017 from Franz Untersteller, Minister of the Environment for the state of Baden-Wuerttemberg.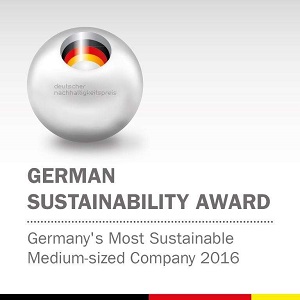 Out of more than 800 participating companies, FUCHS won the first place in its first application to achieve the German Sustainability Award in this year for the category "Germany's most sustainable medium-sized company 2016." The German Sustainability Award is the national prize, recognising outstanding achievements of sustainability in the economy, local communities and research and at the same time one of the most prestigious prizes of its kind in Europe. It is presented by the German Sustainability Award Foundation in cooperation with the German government, leading municipal associations, trade associations, civic organisations and scientific institutes. Annually since 2008, the award recognizes organisations, which combine economic success with social responsibility and environmental protection in an exemplary manner, use sustainable actions for further growth and thereby foster in a particular way the idea of a sustainable society. The award was presented in the context of a festive gala following the 9th German Sustainability Conference on November 25, 2016 in Düsseldorf with around 1,200 invited guests.
About the German Sustainability Award
The German Sustainability Award aims to promote sustainable development in Germany and to support the embedding of the principles of corporate social responsibility in public opinion in a better way. The award should demonstrate that sustainable action not only helps solving social and ecological problems on a global or local scale, but may also increase profitability and competitiveness. Awarding of the German Sustainability Award is based on an annual corporate competition. Eligible to participate are all companies, who produce and/or offer goods/services in Germany. Nominees and winners are selected in a multistage process by 12 experts from economy, politics, research and civil society.
About the FUCHS Award
According to the jury, FUCHS pushes forward sustainability in the lubricants industry as a pioneer. The jury decision for the FUCHS nomination reads as follows: "Numerous measures with measurable successes prove that also a lubricants manufacturer can incorporate sustainability along the value chain as well as in its own business model and is able to continuously improve its sustainability level. The German Sustainability Award jury encourages the company along this path as a role model for the industry and acknowledges the sustainability initiative of FUCHS PETROLUB SE in a not yet well known industry with the award in the category "Germany's most sustainable medium-sized company 2016."
For more information please check: